Marc Hebrart Cuvee de Reserve Brut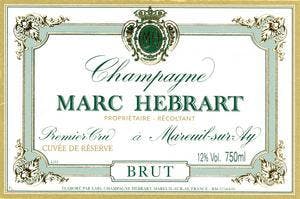 Hebrart's NV Brut Cuvee de Reserve is 80% Pinot Noir and 20% Chardonnay. An inner core of perfumed ripe pears, apples and flowers unfurls from this elegant, long Champagne. Here, too, the wine offers terrific balance and a long, crisp finish.
Wine Spectatorleaner style of bubbly, this is dry and firm, with lemon, apple and bread dough notes. The elements are well-proportioned, and this lingers. A nice aperitif.