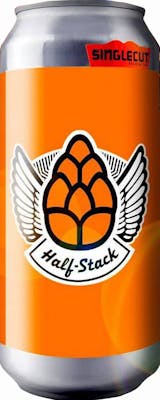 SKU: 10851
SingleCut Beersmiths Half Stack IPA
---
---
CRANK THE HOPS and get the EQ just right, because you're about to indulge in one of the most expertly balanced and intense IPAs to ever grace a pint glass. A true SingleCut Classic, built on a hand selected blend of PNW and Aussie buds, HALF STACK is full of juicy nectarine, sweet tangerine/grapefruit, a touch of piney resin, all on a smooth and balanced malt bill built for can slamming or food pairing. Balanced, Intense, and always Loud.
CRANK THE HOPS to the point right before tastebuds bleed with a PNW / Aussie blend. Super smooth malt base, pine resin, bright tangerine and pineapple hop flavor and aromatics. At 105 IBU's, "Half-Stack" is a relative term - As we like to say, "If it's too hoppy, you're too old!

Are you 21 years old, or older?