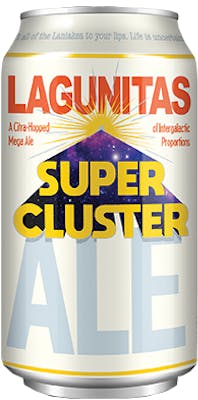 SKU: 07955
Lagunitas Super Cluster IPA
---
---
You are here. On a speck of dust, three tiny rocks from the source. At the edge of something much larger, in the middle of something else, at the beginning of the end. It's a lot to wrap your head around, so take it one gulp at a time. Life is uncertain.
This out-of-this-world ale is a galactic blast from the glass, a Citra supernova in the sky, jettisoning lupulin lusciousness through the cosmos and across the universe of your palate. Enter its bitter orbit and we'll all float on, okay? Cheers!

Are you 21 years old, or older?