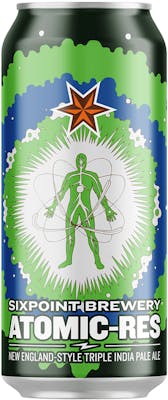 SKU: 10057
Sixpoint Atomic Res NE IIIPA
---
---
Going inside the hop cone to extract its precious content-this is the essence of RESIN. Hop Hash takes this concept to its realized extreme, as pure lupulin collected during pelletization is preserved, then frozen with liquid nitrogen and shattered into the beer during dry-hopping. The result is a chain reaction of hop intensity going off in every sip. Experience pure juice at the ATOMIC level!
The particles left behind when Idaho 7 hops are processed were scraped into hash and featured in this beer. Full on atomic juice bomb status.

Are you 21 years old, or older?